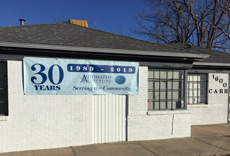 Call (303) 238-5300
Automated Accounting Services Inc.
1600 Carr St.
Lakewood, CO 80214
Nationwide Service Since 1989
    Hours: Monday - Friday 9:00 to 7:00, or by appointment.
    We are open Saturdays during tax season (Jan 1 - April 30).
---
    Use the form below to contact us by email.
   Send a Message
If your attachment is larger than 1MB or your file type is not listed here, please email direct to me at keithespin@aol.com.