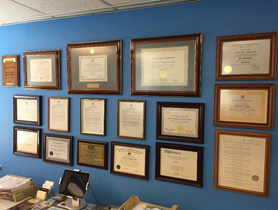 I do my best to keep my fees as reasonable as possible. However, I do not compete with low-cost preparers who advertise that they do $100 returns, or who don't sign their returns. I am often called upon to fix the returns of those low-end preparers.
Clients who engage my services, know that they are getting three decades of experience from a professional who is nationally published and well-networked with the best and brightest Enrolled Agents across the country.
I am careful, diligent, and thorough – my objective is to apply my skills and expertise to ensure that you pay the least amount of tax allowed under the Internal Revenue Code, while at the same time minimizing the chances that your returns will fail at audit.
I offer introductory discounts to new clients, as well as senior, student and preferred customer rates to existing clients, and a remote discount to those clients who complete the tax preparation process by mail, email, or portal upload. For client convenience, I accept payments by cash, check, VISA, MasterCard, Discover, American Express, and PayPal.
---
Make a payment securely and easily through our online payment form. Payments may be made with a PayPal account or any major credit or debit card.